Richard has programmed a set of sounds for Clavia Nord, makers of the ubiquitous little red synths you see used by many musicians (DS used the Nord Lead 3 extensively on Blemish). Specifically, he's programmed a sound bank for the Nord A1, Clavia's latest synth.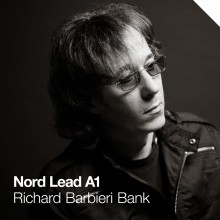 There's a news story about it here - with comments from Richard:
https://www.soundtech.co.uk/nord/news/nord-releases-richard-barbieri-soundbank-for-lead-a1
And the bank itself is available at the link below. It also has two 3 minute demos of the sounds. The first is heavier - more in the PT vein. The second - called Asia Major - is more in the vein of Japan. It has a lot of the signature arabic/indian lead sounds he uses, and towards the end is more in 'tin drum' territory with delicate percussive sounds.
http://www.nordkeyboards.com/sound-libraries/product-libraries/synthesizers/nord-lead-a1/richard-barbieri-bank
Very interesting to hear these. The A1 is designed to be a relatively easy to use analogue-modelling synth and it sounds to me like Richard has tried to replicate a lot of his favourite Prophet-5 / OBX sounds.