No vocals, but if you like your Sylvian mood-music, there is a good dose here (bet you don't have this... and probably never will)! DS is only credited for "guitars". Great soundtrack for late night online shopping...
<<
HECTOR ZAZOU "MINI-CD"
>>
PS> Don't know for sure if this contains anything not on 'Sahara Blue' collborations CD. I suspect that it is extended tracks from the HZ/DS songs on Sahara Blue.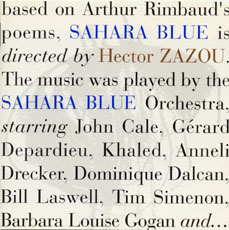 ... David Sylvian!